Hydraulics/Lowriders - by True Playaz

'63 Chevrolet Impala "Cloud 9"

My Impala was purchased in Ottawa, Ontario and was dark purple with a 283 engine and a 2 speed power glide transmission. I first replaced all bushings on the control arms, basically rebuilding the front end. Then, all interior trimming and dash parts were stripped, the floors re-welded, and new wiring to front and rear lights.

The car's body was repaired and painted 2001 Isuzu Rodeo Blue with white and blue ice pearl, the top painted white with ice pearl at GT AutoWorks. Fourteen-inch Luxor 100 spoke knock offs replaced stock rims.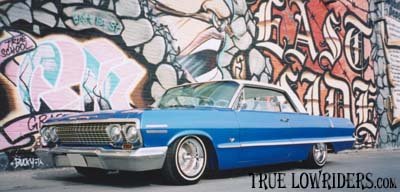 View Larger Picture

The interior was originally green and needed to be reupholstered. New Image Interiors redid the seats and door panels in white marine vinyl with the original patterns. A blue carpet replaced the purple one that came with the car. I sanded the dash board down and painted it white.

The car's stereo was kept in tack, but a JVC 530 CD changer, 2 eight-inch mids in the front, 2 JVC 6x9's in the back and 1 JL Audio 15" woofer in the trunk.



View Larger Picture

I have had the car for a year and a half now, there's a list of things still to be done. Future plans are to re-chrome all external pieces, replace the 283 engine with a 350 and keep the 2 speed tranny. Hydraulics are a must and I'll most likely go with a 2 pump 8 battery set-up, and a sliding ragtop on the roof. All in due time and $ $ $ $ …



Nelson, True Playaz Lowrider Club
August 26, 2001